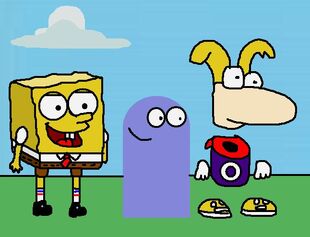 SpongeBob SquarePants is an American animated television series. Much of the series is centered around the exploits and adventures of the title character and his various friends in the underwater city "Bikini Bottom". The series's popularity has prompted the release of a media franchise, contributing to its position as Nickelodeon's highest rated show, the most distributed property of MTV Networks, and among Nickelodeon's most-watched shows.
SpongeBob is one of Cartoon Shows. He was used as protection against the tooth fairy in "Cartoon Wars VII" along with Bloo and Rayman. He and Yoshi made a restaurant in "Yoshi's Got a Diner".
Ad blocker interference detected!
Wikia is a free-to-use site that makes money from advertising. We have a modified experience for viewers using ad blockers

Wikia is not accessible if you've made further modifications. Remove the custom ad blocker rule(s) and the page will load as expected.