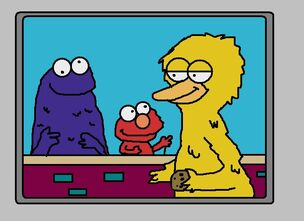 Elmo is a red Muppet from the popular PBS children's television show, Sesame Street. He made his official debut on the show in 1985, and has been a regular on the show since 1986 (his popularity increased starting in the early 1990s, and is now one of the most popular characters on the show today.)
On Geo TV, Elmo is usually voiced by Tress MacNeille.
Cookie Monster, Elmo and Big Bird appear in "Lisa Done It" while Geo Guy watches Sesame Street on the morning of his and Lisa's anniversary. He yells at the television that the other Muppets should go as far as to "shoot him (Cookie Monster) in the face" because he doesn't eat the cookies but rather crumbles them with his mouth.
Appearances in Geo TV
Edit
Ad blocker interference detected!
Wikia is a free-to-use site that makes money from advertising. We have a modified experience for viewers using ad blockers

Wikia is not accessible if you've made further modifications. Remove the custom ad blocker rule(s) and the page will load as expected.